Retreat Accommodations
Our Cabins: Comfortably Rustic
Angeles Crest features two cabin areas that are comfortable all year round, no matter the weather. Each cabin accommodates 14-16 people with wood-frame bunk beds. In the south area, each of the eight cabins has an enclosed restroom. In the north area, eleven cabins share a centralized, modern restroom and shower facility.
Dining: Delicious and all-you-can-eat
Join us at the Dining Hall, located at the center of our campus, for delicious all-you-can-eat meals and socializing! In addition to our indoor facility, we also have a large deck for outdoor dining in nice weather. This spot is especially popular in the summer!
Gathering Areas: Meet, play, worship or just hang
We have three options for gathering areas on site: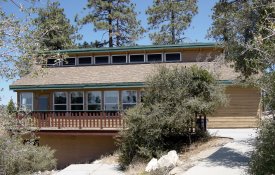 Ponderosa: Seats 75
A beautiful two-story building located in the north area of camp, featuring a second-story carpeted meeting hall for up to 75 people, with a foyer, kitchen area and fireplace. The first floor is a modern, clean bathroom/shower complex that can be divided into sections if needed.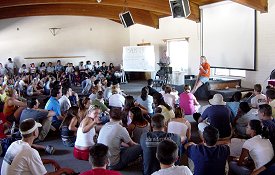 Chapel: Seats 250
Our largest indoor meeting space located at the center of camp, across from the pool. This space can seat approximately 250 people and offers scenic views of the mountains. The main room is fully carpeted with a fireplace and multimedia system. Downstairs, you'll find our camp store and rec room.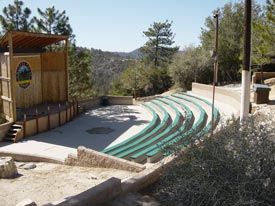 Amphitheater: Seats 250
A multi-use outdoor meeting space that seats approximately 250 and offers fantastic views of the western forest mountain range. The theater features fiberglass benches set in a semi-circle, a campfire, a full size stage with an 8×10-ft. movie screen and sound system, and a lighting system for nighttime use.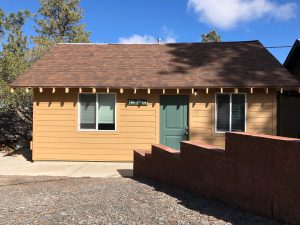 Pines: Seats 30
Our newest small meeting room serves up to 30 people.

Recreation: Tons of Fun Stuff
There's plenty to do at Angeles Crest! Take a swim in our large pool, which features two tube slides and a spacious shallow end for games and relays, or floating in a raft! Looking for something more in tune with nature? Check out the lake, where you can go canoeing or paddle-boating. Our rec room & snack bar in Heritage Hall is the go-to place for games, snacks, and the camp store.
We also have a paintball course (extra charge), basketball court, sand volleyball pit, an archery area, a zipline, a climbing wall, The Trampoline Thing (come find out for yourself!), a treehouse, hiking trails, and so much more. You'll never run out of things to do at Angeles Crest!