Project Nehemiah Christian Service Retreat
PROJECT NEHEMIAH is our volunteer service weekend for adults and kids.
This work weekend is named after the Old Testament character Nehemiah. Nehemiah looked at God's city of Jerusalem and saw that it was tired, broken and in need of repair. He had a vision to rebuild the walls of Jerusalem and transform the city from tired and run-down to a fresh, enlivened city that was ready for God's great work!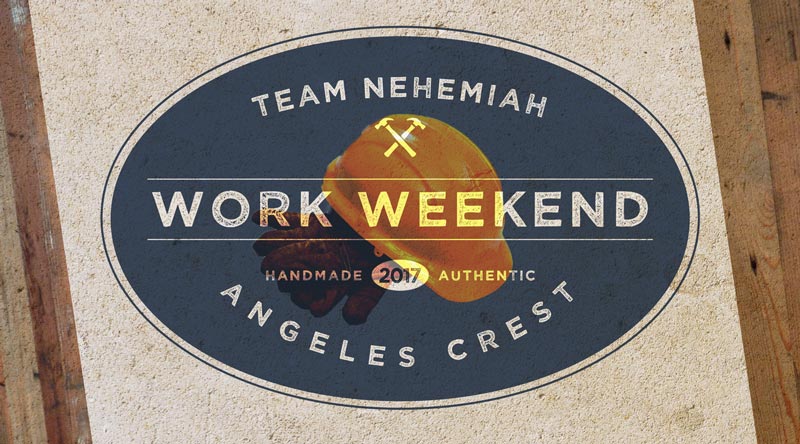 This is the same vision we have for Angeles Crest. We want to take our camp from tired and worn (from the weather, the campers…) to fresh and new, and ready for God's great work this summer! During this service weekend, volunteers will repair and renovate our buildings, landscape the grounds, and prepare for the upcoming summer season. It's a chance to come together as the Angeles Crest family to keep our facilities in tip-top shape!
We would love to have you help us prepare the facility for our upcoming summer camps. There are a number of arrival options for the work weekend so that you can choose what works best for you:
Friday daytime arrival – Get a headstart on Project Nehemiah weekend by coming to the camp during the day on Friday and staying through the weekend. Lunch and dinner will be provided on Friday.
Friday evening arrival – Head up to camp on Friday night (5:30-7:00 pm) after work or your other responsibilities, and be ready to go bright and early on Saturday morning. Please let us know if you are planning to come on Friday evening, so that we can make housing assignments.
Saturday morning arrival – Saturday is the main work day, and you are welcome to arrive early for the work day. Breakfast is available before the day begins, and lunch and dinner will be served.
Whenever you arrive, feel free to stay on Saturday night and join us for a Sunday morning breakfast and worship service. Project Nehemiah concludes on Sunday morning after the special worship service in our chapel.
Date: TBD
Cost: $20 per individual; children 5 or under are free – Registration costs help us cover food expenses.
Meals: If you're coming on Friday during the day, lunch and dinner will be provided. If you are arriving on Friday evening, a pizza snack will be provided (not a full meal). Breakfast, lunch and dinner are provided on Saturday, and breakfast is provided on Sunday morning.

Housing:
There are two housing options: cabins and RV parking. Cabin housing is first-come, first-served and RV sites are limited, so please register as soon as possible.
Schedule:
Project Nehemiah officially begins on Friday night with registration from 5:30-7:00 p.m. It concludes with a worship service on Sunday morning from 9:30-11:00 a.m.
Tools to Bring:
Any of the following tools or hardware that you can bring will be helpful: ladders, shovels, rakes, brooms, weed-eaters, tools (screwdrivers, pliers, hammers, etc.), power tools (saws, drills, etc.), extension cords, or paint sprayers.
Projects:
We have a variety of projects that you can be involved in. Whether you are skilled in the trades or just a willing volunteer, there is a place for you: Carpentry, Plumbing, Painting, Gardening/Landscaping, Brush/Fire Clearance, Electrical, General Cleaning, and General Repairs.
Personal Items to Bring:
Please bring work clothes and gloves for the day (wear work clothes that you don't mind getting dirty). Since the weather can vary, the best way to prepare is to dress in layers. Bring a t-shirt, sweatshirt and jacket in case the weather cools in the evening. If you're staying over on Friday or Saturday night, please bring a sleeping bag or bedding, pillow, towel, and toiletries.
View the General Information Sheet for additional details on what to bring with you. If you have any questions regarding Project Nehemiah, please call Vicky Stevens at 800-289-8309 or send her an email.
THANK YOU FOR YOUR INTEREST IN PROJECT NEHEMIAH. WE LOOK FORWARD TO SEEING YOU UP AT CAMP!