Over the Memorial Day weekend we host our volunteer service weekend for individuals, families, or church groups.  We welcome adults, youth and children to come and help out with our work weekend.
This weekend is designed to help us get our camp facilities and grounds ready for the upcoming summer camp season.  We offer projects including, landscaping, painting, housekeeping/cleaning, and well as plumbing, electrical and other building projects.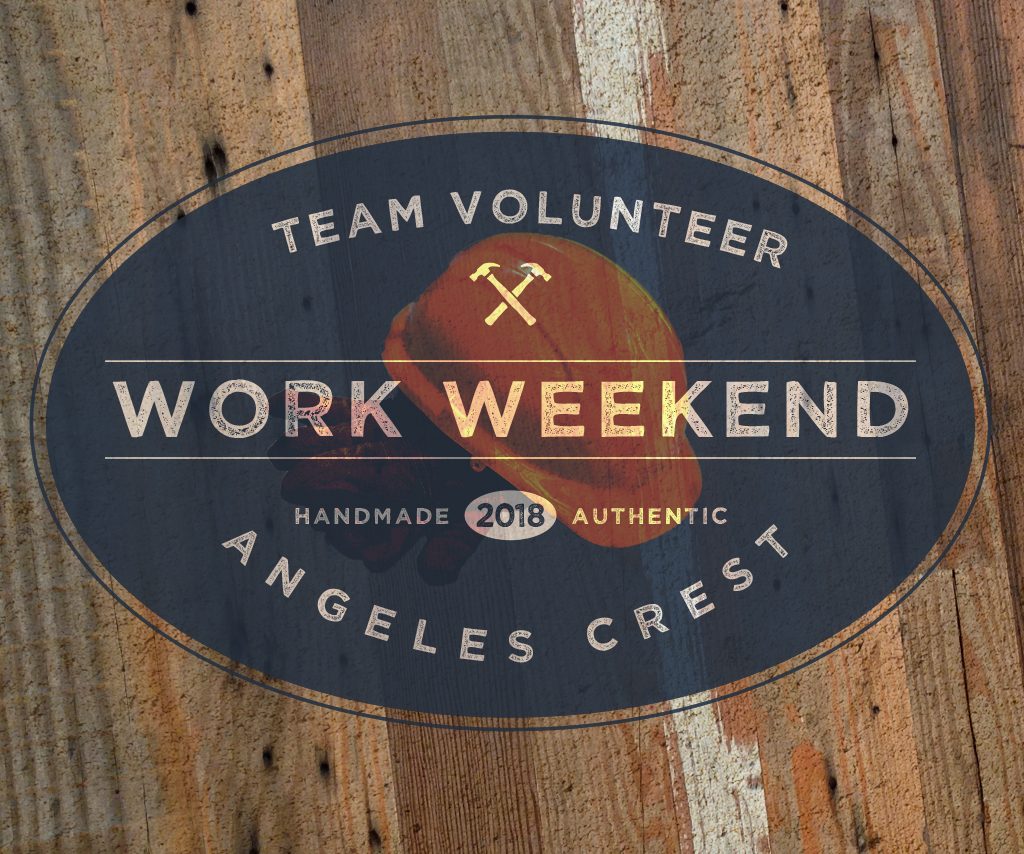 We want to take our camp from tired and worn (from the weather, the campers…) to fresh and new, and ready for God's great work this summer! During this service weekend, volunteers will repair and renovate our buildings, landscape the grounds, and prepare for the upcoming summer season. It's a chance to come together as the Angeles Crest family to keep our facilities in tip-top shape!
We would love to have you help us prepare the facility for our upcoming summer camps. There are a number of arrival/stay options for the work weekend so that you can choose what works best for you:
Friday evening arrival – Head up to camp on Friday night (6:00-8:00 pm) after work or your other responsibilities, and be ready to go bright and early on Saturday morning. Please let us know if you are planning to come on Friday evening, so that we can make housing assignments.  No meal is offered on Friday evening.
Saturday morning arrival – Saturday is the main work day, and you are welcome to arrive early on Saturday morning for the work day. Breakfast is available before the day begins @ 8:00 am, and lunch and dinner will be served later in the day.  The work day ends at 5:00 pm.
Saturday evening stay – If you would like to stay over on Saturday evening that is available as well.  There is no organized program on Saturday evening but use of the chapel and game room is available for use.  Breakfast on Sunday morning will be made available.
To register for the Volunteer Work Weekend, or if you have questions about the weekend, please contact Vicky Stevens at 714-870-9190 or at vicky@angelescrest.com.  Thank you for your interest in the Volunteer Work Weekend!
Date:  May 25-27, 2018
Cost:  $20 per individual; children 5 or under are free – Registration costs help us cover food expenses.
Meals:   No meal is provided on Friday night.  Breakfast, lunch and dinner are provided on Saturday, and breakfast is provided on Sunday morning.

Housing:
There are two housing options: cabins and RV parking. Cabin housing is first-come, first-served and RV sites are limited, so please register as soon as possible.
Schedule:
The Volunteer Work Weekend officially begins on Friday night and concludes with breakfast on Sunday morning.  Some volunteers choose to stay and work a few hours on Sunday after breakfast to finish up some projects.  Click here to see a schedule for the weekend.
Tools to Bring:
Any of the following tools or hardware that you can bring will be helpful: ladders, shovels, rakes, brooms, weed-eaters, tools (screwdrivers, pliers, hammers, etc.), power tools (saws, drills, etc.), extension cords, or paint sprayers.
Projects:
We have a variety of projects that you can be involved in. Whether you are skilled in the trades or just a willing volunteer, there is a place for you: Carpentry, Plumbing, Painting, Gardening/Landscaping, Brush/Fire Clearance, Electrical, General Cleaning, and General Repairs.
Personal Items to Bring:
Please bring work clothes and gloves for the day (wear work clothes that you don't mind getting dirty). Since the weather can vary, the best way to prepare is to dress in layers. Bring a t-shirt, sweatshirt and jacket in case the weather cools in the evening. If you're staying over on Friday or Saturday night, please bring a sleeping bag or bedding, pillow, towel, and toiletries.
View the General Information Sheet for additional details on what to bring with you. If you have any questions regarding the Volunteer Work Weekend, please call Vicky Stevens at 714-870-9190 or send her an email.
THANK YOU FOR YOUR INTEREST IN THE VOLUNTEER WORK WEEKEND. WE LOOK FORWARD TO SEEING YOU UP AT CAMP!