Adopt-a-Cabin: Support Angeles Crest
One of the best ways to help keep our facilities in tip-top shape is to join our Adopt-a-Cabin program. In Adopt-a-Cabin, individuals or groups "adopt" a sleeping cabin and renovate it. The renovation includes indoor and outdoor restoration. Outside work includes such things as replacing worn out wood trim, repairing or replacing doors, painting (including prep work), etc. Inside work includes such things as preparing the walls for painting, texturing walls, painting, replacing electrical outlets, removing and replacing carpet, etc.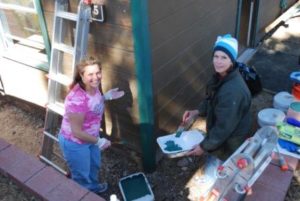 Participation in Adopt-a-Cabin can be done in different ways and at different levels, depending on how much you wish to be involved. You can choose to simply donate the funds to finance the project and let our staff do the work, or you can donate both the labor and funds to complete the project.
Support Adopt-a-Cabin
If you would like more information on how to participate in Adopt-a-Cabin, please call our administrative office at 714-870-9190 or send us an email at camp@angelescrest.com.
Thank you for your help and support of Angeles Crest Christian Camp!