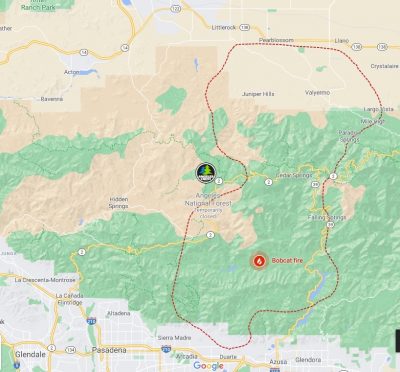 Angeles Crest Bobcat Fire Update
The Bobcat fire threatens the buildings of the camp at Angeles Crest Christian Camp as of today. The portion of our property named Singing Pines is in the most immediate danger and despite the faithful service of firefighters, the fire still creeps toward our buildings and our recreation elements and threatens to destroy our beloved camp.
And if that was not enough… When the Bobcat fire was first a threat, firefighters evacuated the visitors and residents of Angeles Crest. Soon after, the power went out, leaving thousands of dollars worth of food to spoil in our freezers and refrigeration units at the camp.
To make matters worse…
Drawn to the camp by the smell of rotting food, the threat of fire, and the lack of water in the area, a brown bear busted through one of the doors of the Dining Hall, destroying the door.
But God… It would be easy to get discouraged and feel defeated. But God has blessed us with things to do and ways to serve.
What can we do?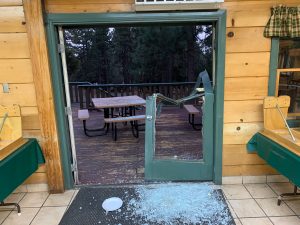 We can pray. We can pray for God to spare the camp from the fire so that thousands can hear of His goodness and love in the years to come.
We can help. The firefighters are using parts of our property for lodging and water from the pool to help combat this raging fire.
We can ask for help. Outside of asking God for His provision, we can also ask for your financial support at this time to bridge us to summer next year. Without much income since the onset of COVID, and now the closure due to the Bobcat fire, we see no immediate end in sight. We are financially anemic and need generous folks to join us in the fight to save camp.