Weather & Road Conditions
WEATHER
Angeles Crest Christian Camp is in the middle of the Angeles National Forest at an elevation of 6,000 feet so the weather can change dramatically depending on the time of year. Typically, during the summer season (June through September) it can be hot and dry with temperatures in the 80 to 90 degree range. In the winter season (December through March) we often have low temperatures and even snow at camp depending on the weather pattern.
Five-Day Forecast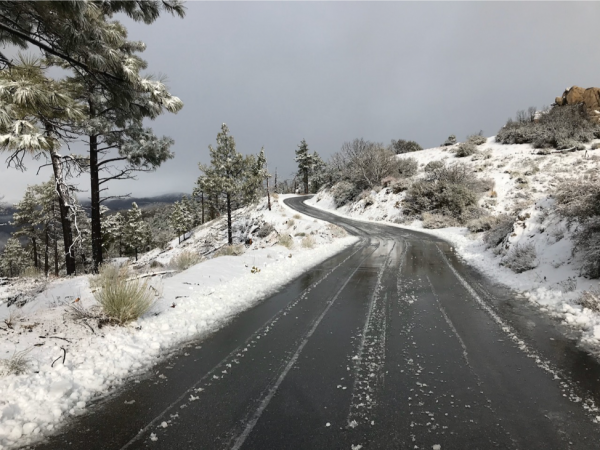 ROAD CONDITIONS
Angeles Crest Christian Camp is located approximately 30 miles above the city of La Canada, just off Angeles Crest Highway (Highway 2) on Sulfur Springs Road. From any direction, take the Angeles Crest Highway (Highway 2) exit off of the 210 freeway. Proceed north on the Angeles Crest Highway into the mountains. Click on the link below for directions.
The road conditions up to Angeles Crest Christian Camp vary according to the season. During the spring, summer and fall months access to the camp is open most every day. During the winter months road access may be limited depending on weather patterns.
To get the latest road conditions go to the Cal Trans link below. When you go to the link put the number "2" in to designate Highway 2 which is the highway the camp is located off of.
A few tips…
Dress – The best way to dress for a visit to Angeles Crest Christian Camp is to bring layers regardless of the time of year.
· For summer time you can bring shorts for warm weather during the day and pants for the evening. You'll need a coat/sweatshirt for the cooler evening weather. Closed toe shoes (tennis shoes) are best for comfort and safety.
· For winter time you'll need to be layered. It's recommended that you bring pants, a shirt, and a warm sweatshirt and/or a coat. During the winter time we do have snow and the temperature can drop below freezing during the day and especially at night. Boots are recommended during the winter time in case of snow.
Sunscreen – Since the camp is located at 6000 feet elevation, there is high exposure to the sun's rays. Make sure you bring a hat and sunscreen for protection from the sun during the day.
Water Bottle – During the summer it can be especially warm and dry so it is a great idea to bring a water bottle so you can remain hydrated during your stay at camp. Even during the winter time the air is dry so it's a good idea to bring a water bottle with you as well.