Our Volunteer Work Weekend is for adults, youth, and children. This work weekend is designed to repair and renovate our buildings, to landscape the camp grounds, and to prepare the camp for the upcoming summer season. It's a chance to join together as the Angeles Crest family to keep our facilities in tip-top shape!
We will have many different projects in which you can be involved. Whether you are skilled in the trades or just willing to volunteer – there is a place for you.
Carpentry | Plumbing | Painting | Electrical | General Cleaning | General Repairs | Landscaping | Brush/Fire Clearance
Thank you so much for volunteering to help Angeles Crest prepare for our summer camp season! We appreciate your willingness to give of your time and effort! Here are few important things to know before coming up to our Volunteer Work Weekend…
1. Tools – If you can bring your own tools to the Work Weekend that is helpful. If you can't bring tools don't worry, the camp will have some there for you to use. Also, if you bring up your own tools please mark them clearly so we know who they belong to. Here is a list of some general tools that you can bring…hammer, drill, saw (hand and power), extension cords, rake, shovel, ladder, brush loppers/pruners, chain saw, weed-eater, brooms, leaf blower.
2. Clothing & Gloves – Be sure to wear appropriate clothing for the workday. Wear clothing that can get dirty, get cement or paint on, etc. If you have a pair of work gloves please bring them. If not, the camp will provide some for you. Please do not wear sandals to work in but bring closed toes shoes or boots for safety purposes.
3. Weather – The weather will most likely be warm during the work day on Saturday. Make sure you bring a hat and sunscreen for protection from the sun. If you are staying overnight be sure to bring a sweatshirt or a jacket as it can get cool at night and in the mornings. It is always best to bring multiple layers of clothing as the weather can vary throughout the weekend.
4. Staying overnight – If you plan on staying overnight, you will need to bring your own bedding (sleeping bag, pillow, blankets, etc.) along with toiletries, towels and personal items.
5. Meals – We will have meals covered for Friday Evening, Saturday (Breakfast, Lunch & Dinner) and Sunday breakfast if you are staying until Sunday.
6. Project Sponsor – Because camp funds are limited, the sponsoring of a work project is a great way to help the camp. If you would like to help sponsor a particular project by financing the purchase of the materials please contact Keith Poletiek at keith@angelescrest.com so he can coordinate that with you.
Friday

5:00 p.m. Arrival & Registration & Get Settled in Cabins
6:30 p.m. Dinner in the Dining Hall
7:30 p.m. Volunteer Projects Meeting
8:30 p.m. Free Time (Chapel & Game Room open)
11:00 p.m. Lights out & get some sleep
Saturday
7:00 a.m. Coffee in the Dining Hall
8:00 a.m. Registration/Breakfast
8:30 a.m. Work Projects
12 noon Group Picture
12:15 p.m. Lunch
1:00 p.m. Work Projects
5:00 p.m. Clean Up – get ready for dinner
6:00 p.m. Dinner
7:00 p.m. Free Time
Sunday
7:30 a.m. Coffee in the Dining Hall
8:00 a.m. Breakfast
9:30 a.m. Chapel Service
10:30 a.m. Finish Camp Projects
1:00 p.m. Lunch
2:00 p.m. Head for Home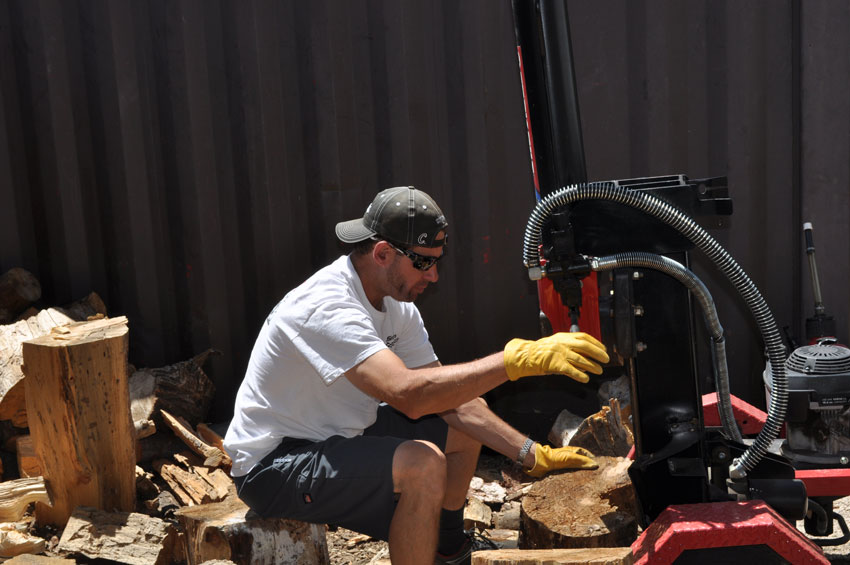 YEAR-ROUND VOLUNTEER OPPORTUNITIES
HOW YOU CAN HELP
Do you wish there was a way to use your God-given talent to serve Angeles Crest Christian Camp? Are you looking for a way to give back to a camp that has a special place in your heart?
Angeles Crest is grateful to host volunteers who desire to offer their time and talent so that this place can continue to be used by God to impact the lives of thousands of youth, adults, and families year after year. We have a wide variety of on-going projects that need volunteers to bring them to completion. From manual labor to desk work, art skills to construction, we love connecting our volunteers to their individual ministry here at Angeles Crest.
Volunteering as a family, individual, or group is a special gift that develops purpose, builds relationships, and creates fellowship. Our volunteers are welcome to stay onsite in their own RVs and will work under the leadership of Angeles Crest's staff in the area of their expertise. If you would like to be a part of Angeles Crest's ministry in this unique way, please CLICK HERE to submit your volunteer application so we can get to know you and connect you to the appropriate department.
If you are interested in serving as a Youth Program, Church Community Group, or Service Organization, please send an email to: keith@angelescrest.com.