11 Fun Reasons Why Your Students Will Love Winter Camp!
WINTER CAMP 2019
Experience God's RECKLESS Love at Angeles Crest!
Last year was epic. Students played in the snow (yes, at an elevation of 6,000 feet, we often get snow in February & March!), met new friends who share their values, and, importantly, strengthened their love for God and others.
Oh, and don't forget, in addition to great worship and inspiring speakers, there are tons of fun mountain activities, like sledding, ziplining, hiking, and the fear busting climbing wall (all weather-dependent) – and then they get to warm up with hot cocoa or a Frappuccino!
Why Do Church Leaders Love Angeles Crest?
Winter camp is designed for youth and children's leaders who want to connect with their students without having the hassle of planning camp.
We can't promise an avalanche of snow – but we can promise you:
Hassle-free registration.

Early-bird savings. (Ends Jan. 31 2019)

Engaging worship.

Inspiring speakers.

Bonding time with your students.

No Whine Zone! (Students are having a blast hanging together, playing games, eating their hearts out in the dining room and the snack room, sledding, ziplining, paintballing, wall climbing, and more mountain FUN!)

A power-packed theme centered on the RECKLESS Love of God: Experiencing God's Majestic, Beautiful, Breathtaking, and Powerful LOVE.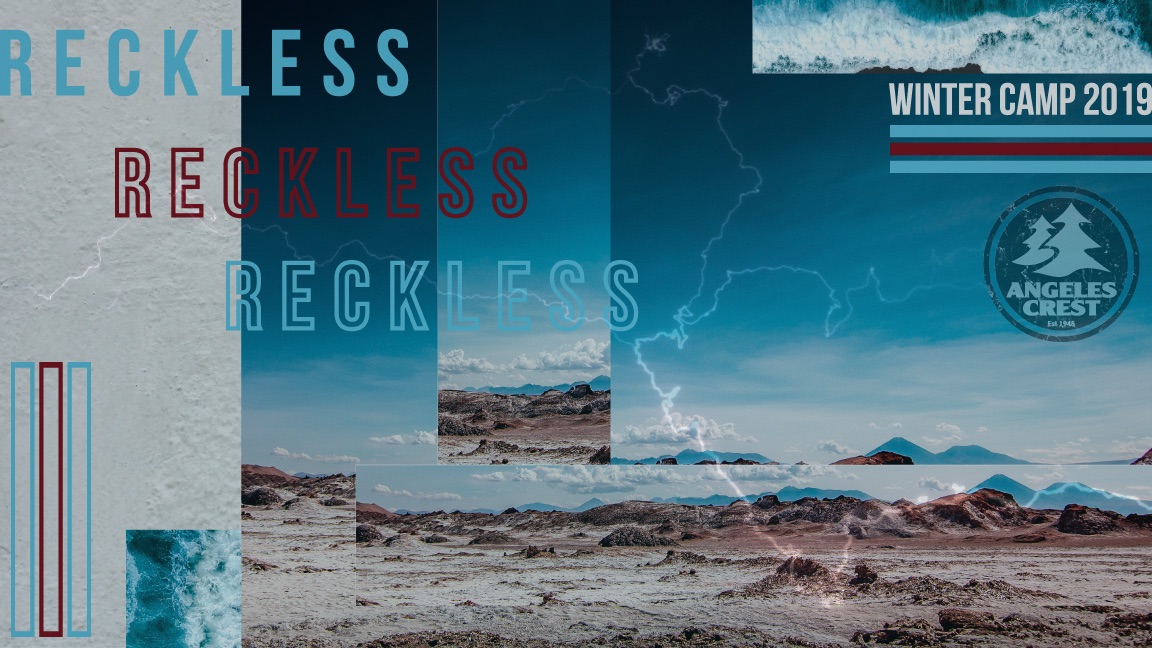 Reckless Winter Camps
Jump into any one of our 4-exciting winter camp experiences based on age. Take a look at our typical schedule, then register for the week that's right for you!
Typical Schedule:
Camp will begin with check in between 6:00 and 7:30 p.m. on Friday. Camp will end at approximately 11:00 a.m. on Sunday morning.
Our youth group attends Angeles Crest Christian camp for their summer camp. They never fail to deliver. Great attention is given to the service of their guests. The staff is cheerful, friendly and helpful in every way. The facilities are clean and recent upgrades are noticeable and appreciated in the cabins, meeting rooms and dining hall. Last year they extended their zipline and it is better than ever. Most importantly, the experience at the camp truly changes lives. We have seen this first hand.
Call Vicky by January 25th to purchase your Winter Camp T-shirt at a discounted rate!
800-289-8309
Join us this winter!
Contact Vicky Stevens:
BTW – We NEVER want finances to get in the way of your students experiencing God at Angeles Crest. Generous donors have funded scholarships – so just ask Vicky about the details.
Questions? Contact Vicky Stevens at 714-870-9190 or by email.