2019 Summer Camp Theme: THIS IS ME
Who am I?
There are so many ways we find our identity.
Usually our identity is shaped by our age, gender, hair color, family, abilities, background, short-comings, quirks, likes and dislikes.
Our identity can also be shaped by Who loves us.
When you and your friends join us at Angeles Crest this summer, you'll experience a crazy, fun-filled, circus-like camp bursting with life-changing, Christ-like love.
2-Reasons to Submit Your 2019 Summer Camp Request NOW:
Get the dates and space you want.
Save money with early bird discount expiring March 31.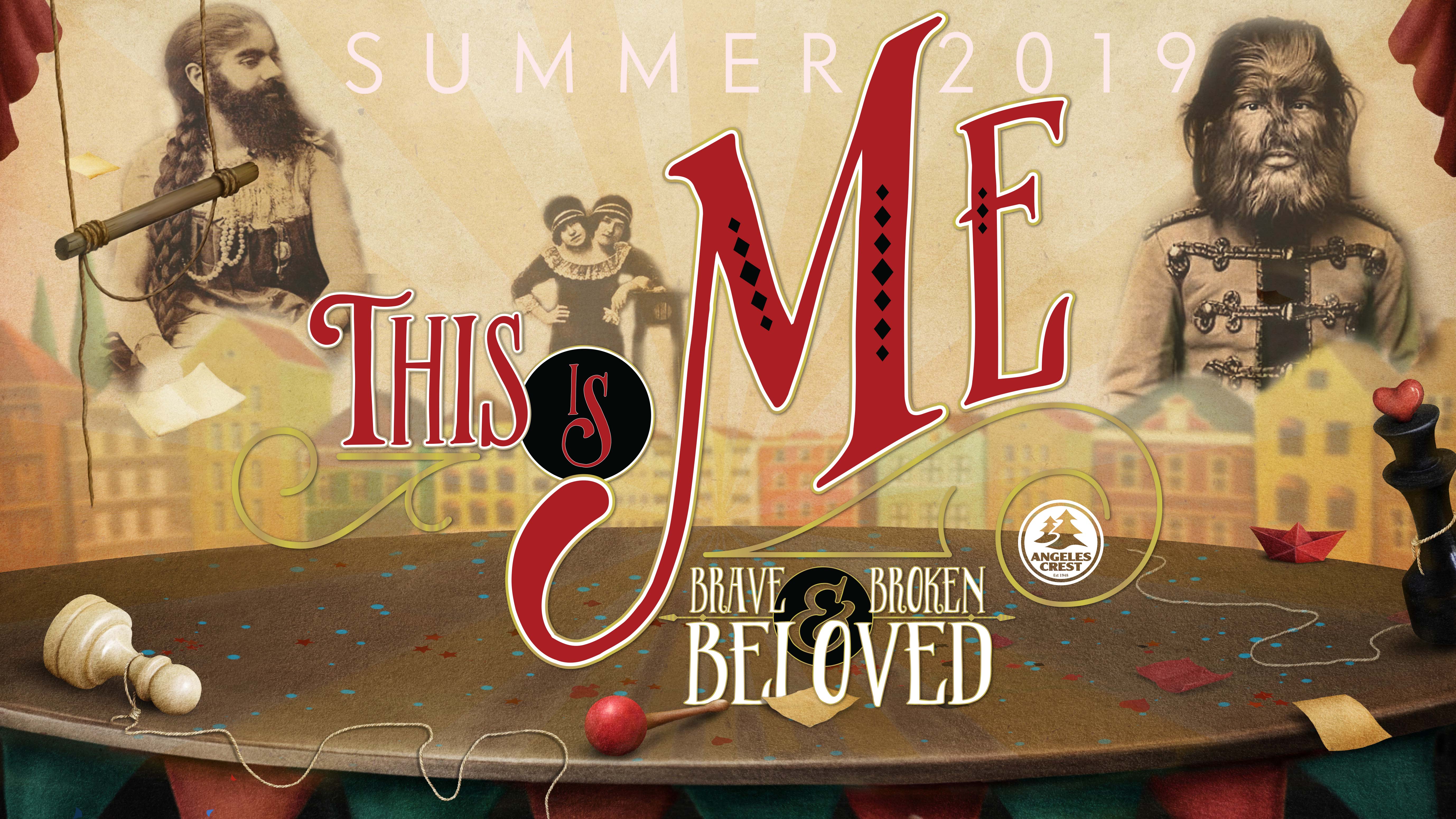 Junior Week
$350 after April 1st
Grades 3-6
July 7 – 11, 2019
5 days, 4 nights, all you can eat food, fun, recreation, worship, and hang time
Leaders FREE (ratio 1:7)
Junior Weekend
$200 after April 1st
Grades 3-6
August 2 – 4, 2019
3 days, 2 nights, all you can eat food, fun, recreation, worship, and hang time
Leaders FREE (ratio 1:7)
Jr. & Sr. High Week
$350 after April 1st
Grades 7-12
July 28 – August 1, 2019
5 days, 4 nights, all you can eat food, fun, recreation, worship, and hang time
Leaders FREE (ratio 1:7)
We offer different summer programs based on age, and a weekend option for our younger attendees. Choose the program that's right for you and click Register Now.
Fun-Filled. Life-Changing. Summer Camps.
At Angeles Crest, our summer camp programs are an opportunity for students from any background to have fun, make new like-minded friends, explore nature and, most importantly, grow in their relationship with God.
When our campers aren't in organized worship or hearing from inspirational speakers, they're busy with tons of awesome activities!
Students can take a swim in our large pool, which features two tube slides and a spacious shallow end for games and relays, or floating in a raft! Looking for something more in tune with nature? Check out the lake, where students can go canoeing or paddle-boating. Our rec room & snack bar in Heritage Hall is the go-to place for games, snacks, and the camp store.
We also have a paintball course (extra charge), laser tag, basketball court, sand volleyball pit, an archery area, a zipline, a climbing wall, The Trampoline Thing (come find out for yourself!), digglers (a unique cross between BMX & a scooter), a treehouse, hiking trails, and so much more. You'll never run out of things to do at Angeles Crest!
What I love most about Angeles Crest is the awesome surroundings. It is literally perched on the wide crest of a forested mountainside in the middle of the rugged Angeles Crest National Forest. From most sides of the main camp area, you can see out for miles around which yields amazing views and photographs — particularly sunsets from the outdoor amphitheater, pool, and open recreation field area. I'm amazed that even though the camp is so close to the urban sprawl of LA and Orange County, when I'm up here, I feel like I'm a million miles away from the day-to-day pressures down in the lowlands!
Life-changing experience! This camp creates a place where anybody can get connected with God, away from the distractions of the world. They have lots of activities and speakers that will rock your world. Every time I go up I come down changed and engaged with my creator.
MEET OUR NEW PROGRAM DIRECTOR!
Rob is a husband, father and youth leader. He is currently the Student Ministries Pastor at North Coast Church in San Marcos. Rob has a major passion for seeing students live out their faith for Christ in the world we live in today. He has been married to his wife Jenny for 8 years and they have two children, Emmett and Charley.
He is a team builder. "In all jobs at North Coast I have found people who I believe have high ceilings in ministry and do things better than myself. I love to let these people run in their gifts. I just try to not get in the way."
He is highly relational. "I believe that all my ministries have grown out of strong relationships. I have a testimony that connects with students but beyond that I love to do life with these students and walk with them through what they are going through."
He is a dreamer. "I dream big and surround myself with people who help carry it through."
Join us this summer!
Contact Vicky Stevens: