Fun-Filled. Life-Changing. Summer Camps.
"A Life Changing Experience! Angeles Crest creates a place where anybody can connect with God, away from the distractions of the world. Angeles Crest knows how to blend tons of crazy activities, interesting speakers, and engaging worship that will rock your world." -Youth Pastor, SoCal
At Angeles Crest, our summer camp programs are an opportunity for students from any background to have fun, make new like-minded friends, explore nature and, most importantly, grow in their relationship with God.
When our campers aren't in organized worship or hearing from inspirational speakers, they're busy with tons of awesome activities like paintball, basketball, digglers (a unique cross between BMX & a scooter), Zip lining, volleyball, archery, a climbing wall, a trampoline, hiking trails, games and so much more!
Summer Camp Programs
We offer different summer programs based on age, and a weekend option for our younger attendees. Choose the program that's right for you and click Register Now.
Junior Week
Grades 3-6
July 7 – 11, 2019
5 days, 4 nights, all you can eat food, fun, recreation, worship, and hang time
Leaders FREE (ratio 1:7)
Junior Weekend
Grades 3-6
August 2 – 4, 2019
3 days, 2 nights, all you can eat food, fun, recreation, worship, and hang time
Leaders FREE (ratio 1:7)
Jr. & Sr. High Week
Grades 7-12
July 28 – August 1, 2019
5 days, 4 nights, all you can eat food, fun, recreation, worship, and hang time
Leaders FREE (ratio 1:7)
Our Theme This Year Is Road Trip
The idea of a road trip can strike dread into the hearts of most preteens. Long, boring hours squeezed between siblings. Leg cramps from a huge cooler tucked under your feet. "Holding it" longer than you thought humanly possible. Hunger pains tormenting your stomach. So what makes a road trip worth it? A good playlist? Meaningful conversations? Beautiful scenery? The destination? (Unless it's a relative who drives you crazy.)
Our lives are very much a road trip. At Angeles Crest this summer, we will travel alongside the story of a water walker, one of the first followers of Jesus – a fisherman, a truth speaker, a passionate believer, and an occasional doubter. Together, we will tap into the amazing insights of his "road trip" and how ours can be all the better.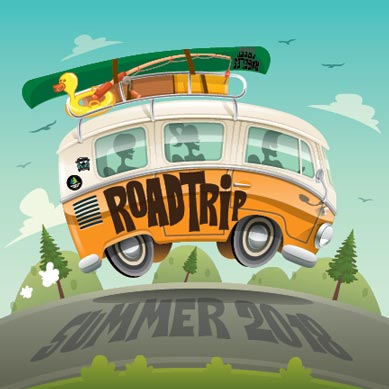 What I love most about Angeles Crest is the awesome surroundings. It is literally perched on the wide crest of a forested mountainside in the middle of the rugged Angeles Crest National Forest. From most sides of the main camp area, you can see out for miles around which yields amazing views and photographs — particularly sunsets from the outdoor amphitheater, pool, and open recreation field area. I'm amazed that even though the camp is so close to the urban sprawl of LA and Orange County, when I'm up here, I feel like I'm a million miles away from the day-to-day pressures down in the lowlands!
Life-changing experience! This camp creates a place where anybody can get connected with God, away from the distractions of the world. They have lots of activities and speakers that will rock your world. Every time I go up I come down changed and engaged with my creator.
Join us this summer!
Contact Vicky Stevens:


Announcing All New Program Partnership – Leaders Come Free
Based on the shared desire to grow kingdom impact and life transformation, UCYC (Prescott, AZ) and Angeles Crest (Angeles National Forest, CA) believe more can be done – together.
To register, contact Vicky Stevens: 800-289-8309 – or by email
What: Summer Program Partnership
Who: UCYC & Angeles Crest
Campers: 3 – 6 graders
Where: Angeles Crest (90 minutes from Los Angeles)
When: Summer 2018

July 8-12 (5-days, 4-nights)

Speaker: Amberly Neese
Rate: $320 per camper
Leaders: FREE (1 to 7 ratio)
"We are super excited!

This summer we are combining energies with UCYC to create one of the best summer camp experiences in SoCal for your 4-6 grader."
"UCYC is grateful to serve together.

We will continue to provide 12-transformative summer camps for Preteens in Prescott AZ. This partnership provides two new options for preteens in SoCal led by veteran children's minister, Amberly Neese, and a seasoned team of dynamic young adults."
Angeles Crest gave me an opportunity to serve early in my ministry.

They believed in me early on. It is really cool and gracious of God to allow me to return in this brand-new program partnership. We can't wait join forces with Angeles Crest to bring a 'RoadTrip' summer program in 2018.