Discover how 'Camp Works' with an eternal impact.
Camperships Available Part 3
The return of Keith Poletiek
In light of our growing summer and winter programs, we are excited to welcome back Keith to serve as our new Preteen Program Director. (Rob Morace will continue to oversee Jr and Senior High programs).
Keith's New Role will include…
Keith's new roles will oversee the development of both Winter and Summer Preteen camps. Of course Keith will be choosing themes, speakers, and worship bands, but that is just the beginning.
Keith will also integrate his years of youth ministry to relationally partner with our children's ministry leaders to ensure age-appropriate spiritual formation both on and off the mountain.
Who is Keith Poletiek?
🔹Keith travels the nation sharing the Good News! He shares Jesus with his zany humor, memorable stories, life-lessons, and God's Word to connect with and inspire people of all ages.
🔹He is inspirational. Keith is the founder of 316 Ministries and Project316, a national outreach ministry for youth which challenges young believers to take the salvation message found in John 3:16 to their world.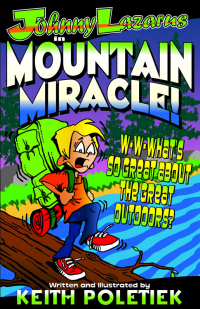 🔹He is an award-winning cartoonist, illustrator and author of the Children's Christian Fiction book series, "The Adventures of Johnny Lazarus."
Keith lives in Huntington Beach, CA, with his amazing wife, Tina.
Have you signed up for Winter 2020 yet?
Early Bird Savings ends Halloween night.