Men's Christian Retreat
Mountain Man
Which reason would make you say YES to a men's mountain getaway?
Avoiding a "honey-do" list.
Have attended before and loved it.
All-you-can-eat food – 'nuff said!
Hanging out with other guys (who won't ask me how I'm "feeling!").
Getting a few ideas on how to be a better man, husband, or father.
Watching a friend jump off the zipline (while he wets himself).
Connecting with God and other guys.
Another reason not listed…
Whatever your reason, consider this your personal invitation to join a bunch of other guys for an awesome men's retreat!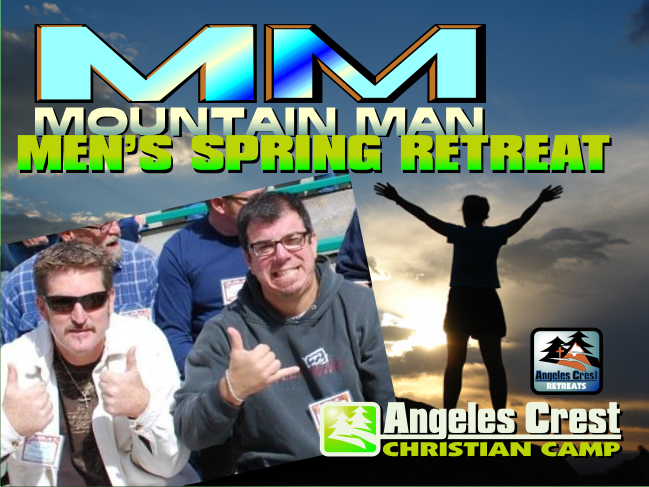 Where: Angeles Crest Christian Camp (San Gabriel Mountains – 90 minutes from Orange County or LA)
Date: April 27 – 29, 2018
Cost: $149 per mountain man ("camperships" are available – see below)
Includes: Lodging, 5 all-you-can-eat meals, recreation, worship, teaching, downtime, beautiful vistas, and crisp mountain air
Time: Check-in is on Friday evening from 6:30 – 8:00 p.m. There is no dinner on Friday night, but we will have some pieces of hot pizza ready for snacking before the opening session. The snack bar will also be open before we get started. The retreat concludes Sunday at 11:30 a.m.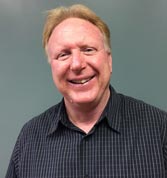 RETREAT HOST: DAVE CROUSE, ANGELES CREST CHRISTIAN CAMP
Dave is the Executive Director for Angeles Crest Christian Camp ministries and will serve as our host for the retreat. Dave has been involved with Angeles Crest for over 25 years as a church counselor, camp speaker, Program Director, and now as Executive Director. Dave has a passion for watching men live up to their potential and follow God with all of their hearts. He will be pulling out all the stops to make this a powerful weekend that will change lives through God's spirit. Dave lives in Corona with his wife, Dani. Together, they have four grown children and three very cute grandchildren! Dave loves everything about Apple technology, is a big sports fan and loves to play golf!

PROGRAM
Our program includes four main chapel sessions where you'll participate in some spirit-filled worship and hear both practical and challenging messages from God's Word. In addition, you'll attend special seminars designed to help you grow in specific areas of your life as a man of God. Throughout the weekend, you'll have time to relax or use the various recreational activities available. Check out the basic schedule for the weekend below:
WEEKEND SCHEDULE FOR MEN'S RETREAT
Saturday offers a number of activities for you to choose from, including sports tournaments (wiffle ball, ping-pong, basketball, and horseshoes), paintball (additional fee required), a climbing wall, archery, a zipline, and our newest addition – skeet shooting! For those who want to explore the beauty of the Angeles National Forest, we will also lead a hike on one of our trails. Or, you may just want to sit back and relax under a tree among God's creation! We have plenty of events and activities to keep you busy throughout the weekend.
"MILE HIGH" PAINTBALL
Our "Mile High" Paintball Course will be open on Saturday. Participation requires a $15 one-time field fee, which includes a paintball gun, CO2 cartridge, paint, and a protective mask. We give all participants enough paint to play an average of three games. If you go through your paint more quickly, you can purchase more at the field. Please note that you must fill out a paintball waiver form in order to play. This form will be available at the paintball field.
"CAMPERSHIPS" AVAILABLE
Our greatest desire is to minister to people through our camp programs. If you have a special financial need, we have "camperships" (1/3 off the cost of camp) available. Please call Vicky Stevens at 714-870-9190 or email her to request a campership at least 10 days before camp starts. Rules for acceptance and participation at an ACCC program are the same for everyone, regardless of race, color, national origin, age, sex, or handicap.
WHAT TO BRING
What should you bring to the Men's Retreat? First things first, make sure you bring a BIBLE to use for all meetings. Other items include a pillow, a sleeping bag or blankets, recreational clothes, a coat/sweatshirt for the cooler evening weather, a towel, and toiletries. There is also a camp store which offers snacks, drinks, and camp clothing, so you might want to bring some spending money. Special note: We will be collecting an offering at the camp, which will go toward a special project that will get the camp ready for summer!
If you have any questions regarding registration, please call Vicky Stevens at 714-870-9190 or send her an email.
SPECIAL NOTE: Full-time Church Pastors attend free! Call or email Vicky Stevens for information on our Pastor's discount.