Big Give Day: Support Angeles Crest
Date
Together, we can make a HUGE impact on students' lives – for eternity! What happens when you partner with Angeles Crest?
You help campers feel accepted by God and others
Your gift encourages a student to experience the powerful sense of belonging that's found in our community
Your investment allows those who are more timid to express themselves in fun and creative ways
Everything you donate on Angeles Crest's BIG GIVE DAY (on May 17th) will support four critical areas: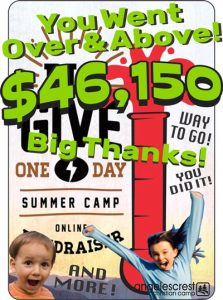 OUTDOOR RECREATION EVENTS
($15,000)
Our philosophy is simple: create an inspiring space and tons of fun for campers to connect with God and one another. Ever notice how in those playful moments, we drop our guard and are more open to meaningful conversations? Together, we can make this happen.
Replace Isaiah's Perch – for a NEW Leap of Faith!
ADD a confidence-building low ropes course!
ADD two courage-boasting bouldering walls!
SUMMER CAMP SCHOLARSHIPS
($10,000 = 95 scholarships)
You can impact a child's life for ETERNITY for just $320! Your gift will help one of 95 students who otherwise can't afford camp be able to connect with God and other Christian youth. Will you help a camper to get here?
REMODEL THE CHAPEL INTERIOR
($9,000)
By remodeling the interior of the Chapel, we accomplish two powerful goals:
1. Increase camper participations by 33% and add 50 more seats. This includes moving
and updating the current soundbooth, installing new carpeting, adding new portable
staging, and mounting a HUGE new video screen.
2. This remodel allows us to hit the "refresh" button on a tired meeting room.
REMODEL THE GAME ROOM/CAMP STORE
($8,000)
The Rec Room is one of our most popular places. Due to heavy use, our games are getting worn out and need replacing. Will you show a little LOVE?
NEW foosball table
2 NEW air hockey tables
NEW ping pong table
NEW basketball free-throw game
In addition, we are creating an easier, more modern way for campers to purchase items in the camp store by purchasing a point of sale system that features an iPad, card reader, register base and receipt printer.

Other Ways to Donate
You can also make donations by sending a check to our administration office. We know that many of our supporters would rather send a check than make an online donation. Please make your check out to Angeles Crest Christian Camp and send it to the following address:
Angeles Crest Christian Camp
Administrative Office
P.O. Box 9
Perris, CA 92572
Thank you for making an eternal impact on the lives of children and teens!