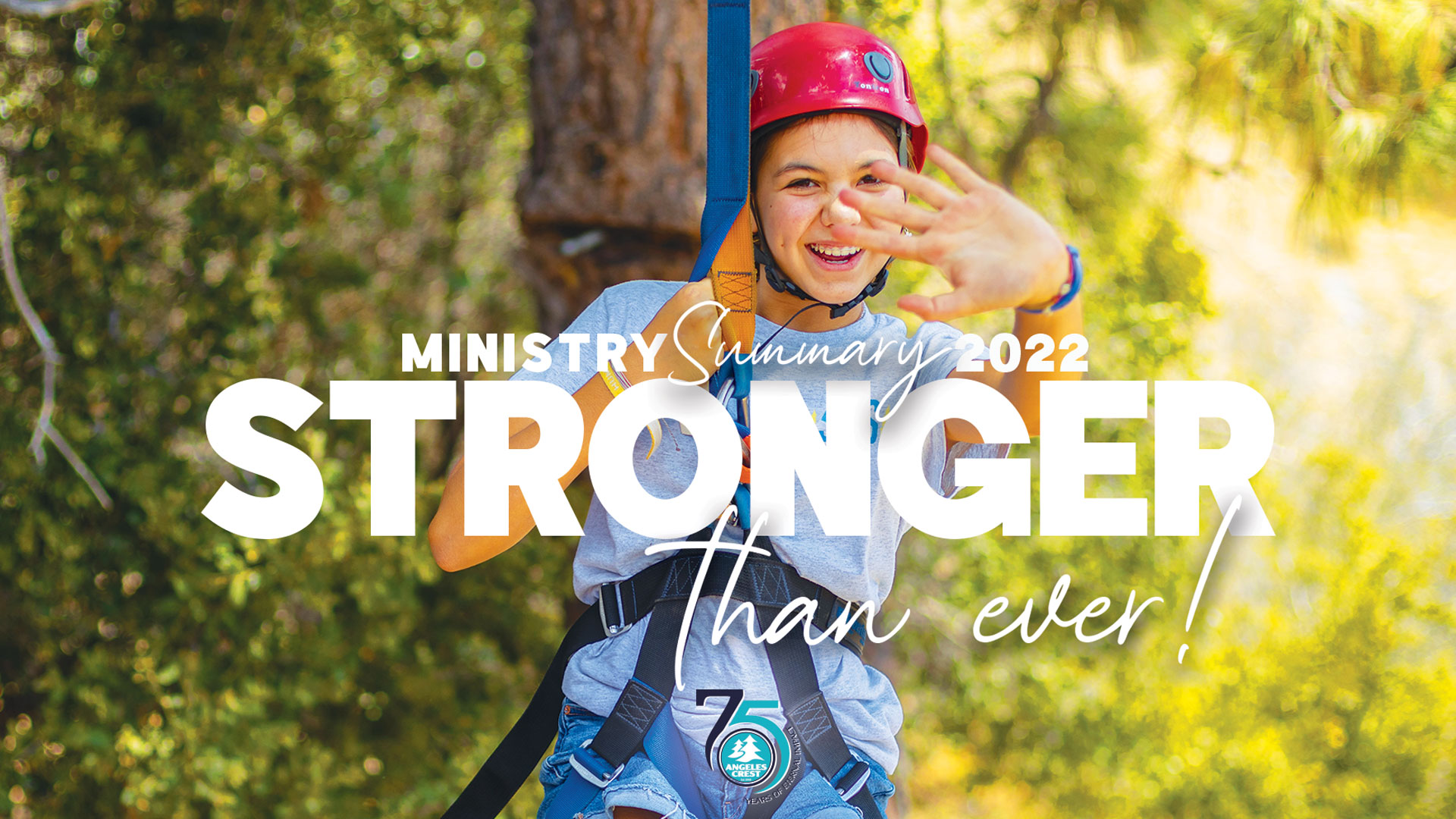 The Lord is my strength and my shield; my heart trusts in him, and he helps me.
Psalm 28:7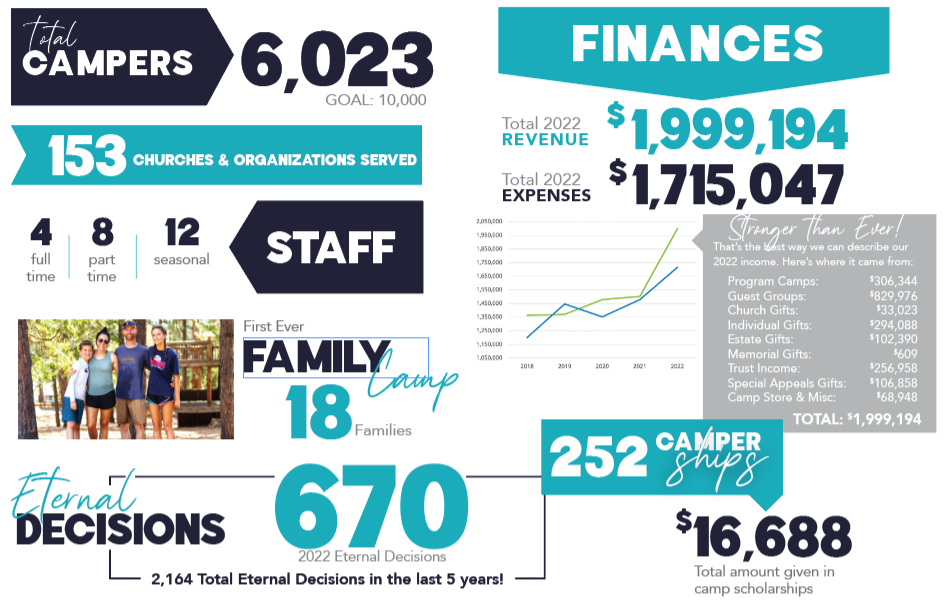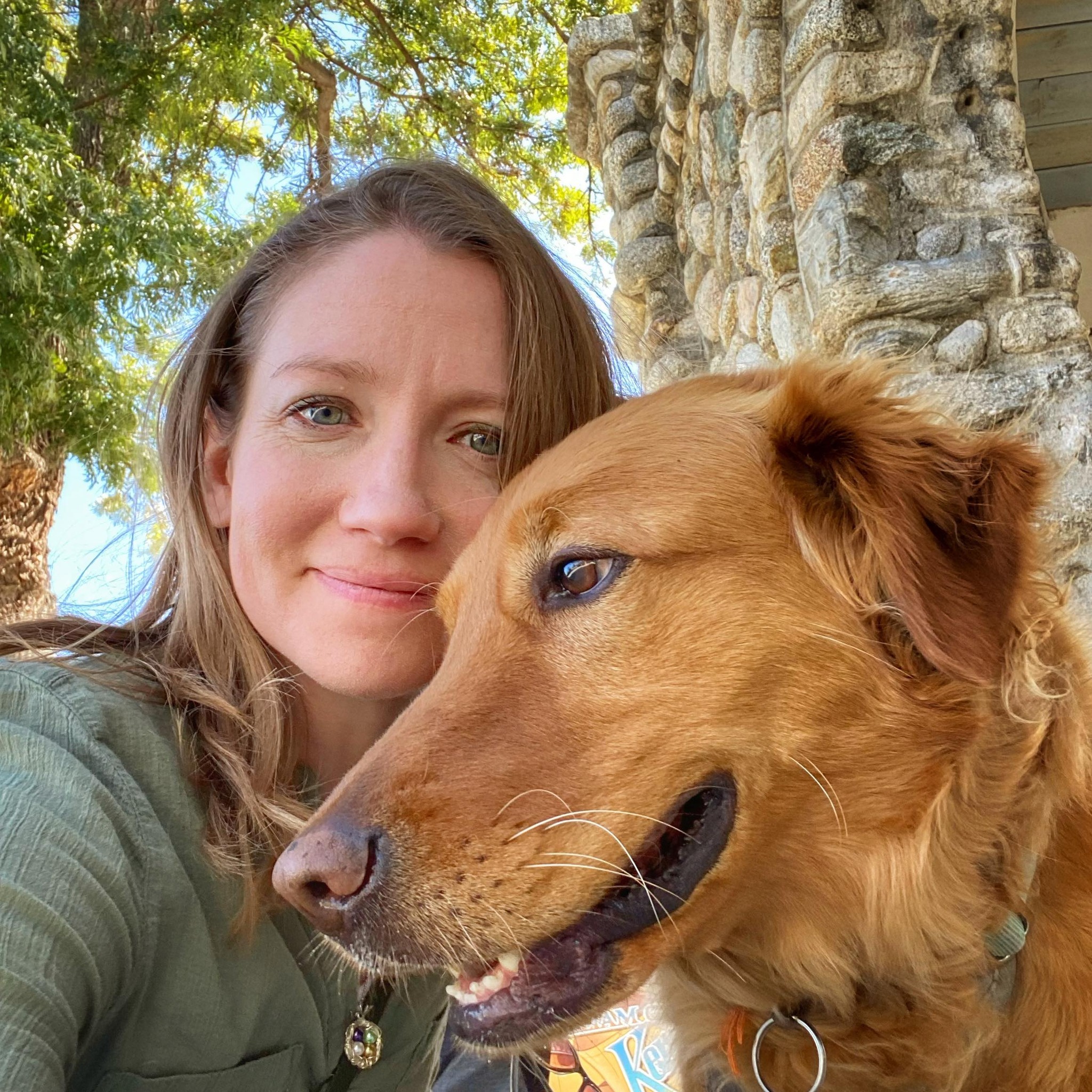 Impacting Eternity One Partnership at a Time
In 2022, God did incredible work in the lives of our campers, leaders, and staff.
What I'm about to tell you blows my mind.
All of the students we took to Angeles Crest made an eternal decision to either renew their commitment to Christ, deepen their relationship with Him, accept Him as Savior or get baptized!
Wow!
I am so thankful God met with them through the week, AND they learned that following Christ, learning more about Him and His word, and spending time with other believers can be oh-so-fun!
Prayer Mattered
I loved that prayer was such an integral part of the week, not only in chapel times but also in leader meetings.
I loved that the Holy Spirit was invited to lead, and leaders were flexible to follow His lead, even if it meant plans changed last-minute.
The team competition was fun, and it taught some important life-lessons about working together, having a good attitude when losing, and committing to the greater good and unity of the Body of believers, not just our own team.
Thank you for a wonderful week away at Angeles Crest Christian Camp!"
– Ruth Happ | San Antonio Heights Community Church | Upland CA
We're A-FLUSH with Gratitude…
We're A-FLUSH with Gratitude…
We are so excited to tell you about what God did through amazing folks this December! WE'RE ON A ROLL #1 & #2 Campaign to upgrade the septic systems and build restrooms at the dining hall.
Goal: $120,000
Received: $121,200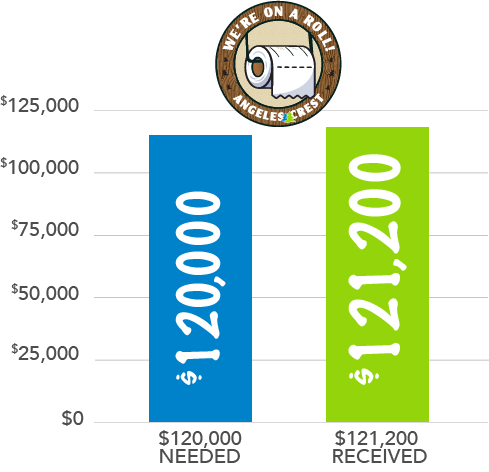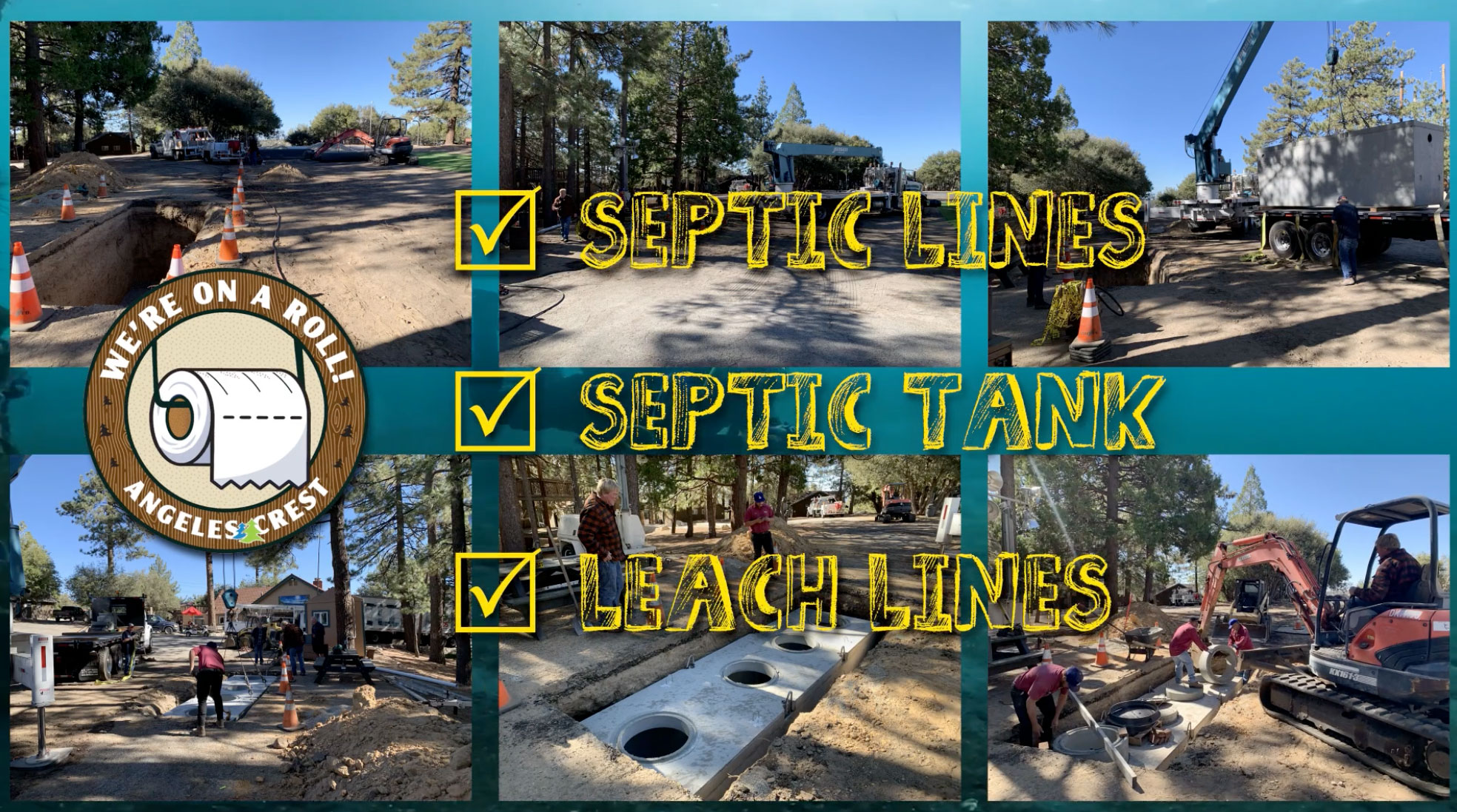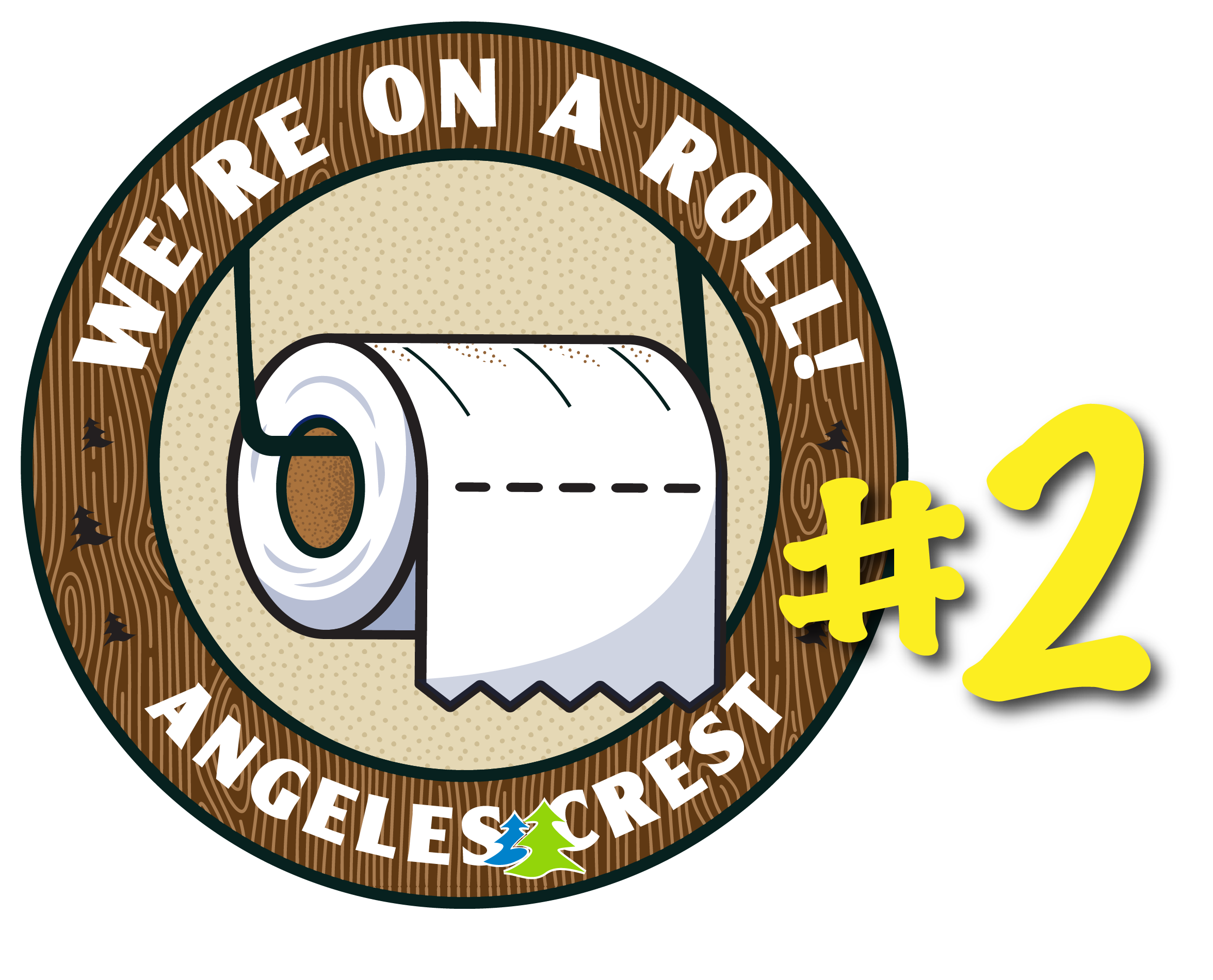 We know there is nothing exciting about giving to a sewer project.
Except, without it there is no camp & no eternal impact.
Soooooo…thanks to all the families, fellowships & foundations whose generosity helped make the "On a Roll" Campaign #2 a huge success:
FAMILIES
Lilian Avelar
Mr. & Mrs. Phil Beard
Dave Beaumont
Rescatando Talentos
George Boose
Jeff & Tomi Campbell
MM Craig Charlton
Brian & Kristen Counsil
David & Dani Crouse
Craig & Suzanne Dodd
Lorraine Dupray
Mark P. & Lori Fisher
Dean & Lori Fleischhauer
Wanda Fuller
Dave & Lori George
Dave Glienke
Scott Graham
Joe & Linda Grana
Jim & Pam Grisham
Stephen & Jamie Hampton
Bill & Reba Harrison
Faith Haymond
Marcia Hovious
Gary & Pat Hudnall
Jens Ipsen
Susan Johnson
Irving & Darlene Jones
Alan & Carolyn Jones
Ron & Ruth Klinsky
Don & Lynn Leicht
Thomas & Frances Lentini
Richard Lewis
Charles Lowry
Arlene Lopez
Curtis & Beverly Luft
Laura Luft
Scott & Ginger Luft
Sean Luft
Linda Magglos
Paul Marshall
Paul & Diane Matsumoto
David McClain
Bert McKee
James & Carol Miller
Scott Miller
Ronald Murray
John Nielsen
Ana Padilla
Patricia Poletiek
Brad Purcha
John W Roberts
John Scavo
Margaret Walker Scavo
Judith Shaw
Danny & Norma Siler
Sherry L Smith
Ron & Glenna Spray
Vicky Stevens
David & Arlene Verdecia
Kevin & Marianne Vosecky
Kim Walter
Scott & Sharon Wilson
FOUNDATIONS
American Endowment Foundation – Brian Padrick
FELLOWSHIPS
Christian Church of Lemon Grove
First Christian Church Downey
First Christian Church Newbury Park
For Freedom Outreach
Parkcrest Christian Church
University Christian Church
West Valley Christian Church